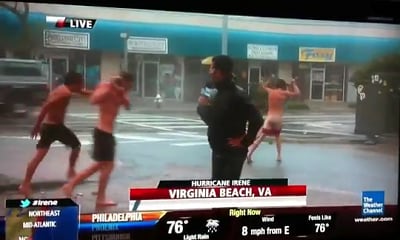 Wow!  Those were some strong winds!
If you're like me, you probably just got back "online" this morning after power and cable outages across Tidewater.  It was nice to be digitally independent for a couple of days, but, I didn't know I was missing what is now being called the greatest moment in Weather Channel history. 

I have to warn you.  The following Hurricane Irene Weather Channel Streaker video features brief nudity.  You have to click on the following link to view it, so, if dude nudity is too much for you, don't open it.  (Ah, you can't resist, can you?)

Choose the following link to view this article on CheckeredFlag.com featuring the Virginia Beach Weather Channel Hurricane Irene Streaker video.  Keep an eye out for the guy in the red shorts.


Yep, the whole nation saw this, and, even some people in other countries including my brother-in-law in Guam.  Are we Hampton Roadsians embarrassed?  Proud?  Little bit of both?  Let's just all agree that those were tourists.

As of the release of this article, the identity of the Hurricane Irene Streaker had yet to be announced, but, I'm willing to bet he had a bit of liquid courage running through his veins at the time. 

The worst thing about this is that not only one group of fools interrupts poor Eric Fisher, but, he gets heckled by people driving by and a second group of goofs. 

That's what the Weather Channel gets for sending B Squad in.  Jim Cantore or Al Roker would have never put up with this type of shenanigans!  At least they would have played it off better. 

Keep in tuned in to your favorite clothing-required Virginia Beach new and used car store, Checkered Flag, for more hurricane related photos and videos.