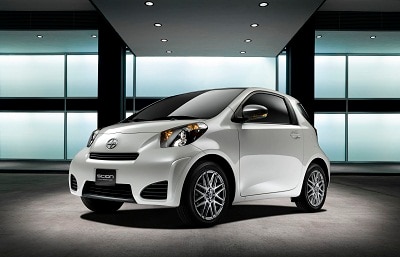 Checkered Flag Scion fans, the wait is almost over!  Scion has just officially released the new juicy details for all new totally radical 2012 Scion iQ. 

This long awaited Scion iQ was previously held up by earthquake and tsunami devastation earlier this year in Japan.  But, now, we have gotten the official word that the 2012 iQ will be headed to the U.S. as early as October, hitting the east coast early in 2012.  Of course, Checkered Flag Scion will be the first Virginia Beach Scion dealer to have the new iQ available for our Scion fans.

So, how much is this new Scion iQ going to cost?  Well, the word on the streets is that the new 2012 Scion iQ will have a starting price of only $15,995!  And, in true Scion form, many options and packages will be available for the new iQ.


  

Here's a breakdown of the 2012 Scion iQ from the official U.S. Scion release:

Made possible by intelligent and functional packaging, the iQ succeeds at taking big ideas and
concentrating them into a small package.

Intelligent engineering innovations like a compact air-conditioning unit, inverted front-mounted
differential, and electronic power-steering system with a compact steering column are
responsible for the iQ's ability to be small in size, but large in capability. Interior passenger
space is optimized by the unique "3+1" offset seating arrangement that allows for one adult
behind the front passenger and a child or small package behind the driver.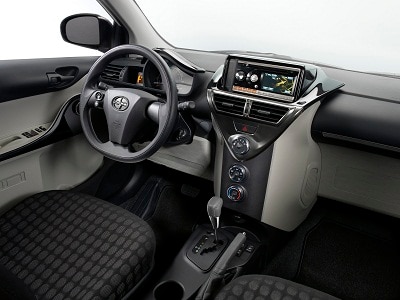 In addition to a standard Star Safety System, the iQ is packed with an industry leading 11
standard airbags and includes the world's first rear-window airbag. Other airbags include driverand
front-passenger airbags; driver- and front-passenger seat-mounted side airbags; side curtain
airbags; driver- and front-passenger knee airbags; and a Scion-first, driver and front passenger
seat-cushion airbags.

The 2012 iQ is equipped with a 1.3-liter, four-cylinder engine that produces 94 horsepower and
89 lb.-ft of torque. It features the latest dual VVT-i, which allows it to be impressively efficient,
providing a broader powerband yet requiring less fuel and generating fewer emissions.

The iQ is rated as an Ultra Low Emission Vehicle (ULEV-II), and achieves an EPA-estimated
combined fuel economy of 37 miles per gallon, comparable to similar vehicles that feature less
passenger and cargo capacity.

The iQ's profile, defined by a strong and high beltline, glides from the large, stout headlamps, up
the A-pillar, across the roof and wraps around the rear, emphasizing the iQ's geometric shape.
Side mirrors with integrated turn signals accent the clean design and give it a premium look.

For more information on the 2012 Scion iQ, or any currently available 2011 Scion, call Checkered Flag Scion at (757)490-1111.  For a Scion test drive, stop by our Scion store located at Checkered Flag Toyota in Virginia Beach.