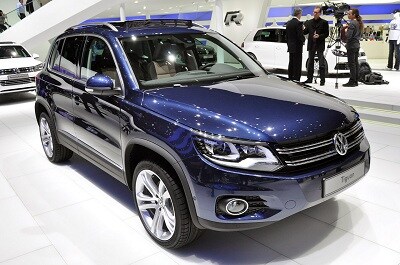 What do the people in Chattanooga, Tennessee know about German engineering?  Well, soon, they'll know a lot!

Before I started at Checkered Flag years ago, I was one of those customers who thought all "foreign" cars were produced outside of the U.S..  Apparently, I wasn't the only one.  While working in our sales office I had call after call of customers requesting vehicles that were built here in the good ol' U.S.A..  I loved letting our Checkered Flag fans in on a little secret-plenty of our Checkered Flag new and used cars are made right here!   And, Checkered Flag Volkswagen is about to have one more set of wheels "made in the U.S.A." to add to its list!

Article and photo source: [autoblog]

Volkswagen is reportedly seriously considering moving production of its compact Tiguan crossover to this side of the pond in an effort to cut costs. If the Tiguan moves to North America, it will likely be built alongside the Jetta and Passat. By moving production of the small CUV here, Volkswagen would cut down on shipping and labor costs, as well as put its plants closer to some parts suppliers.

According to Automotive News, VW execs hope such a move would stop exchange rate fluctuations diminishing profits from the world's number two car market and allow it to better stay ahead of consumer trends. The proposed move of Tiguan production coincides with the opening of VW's new $1 billion plant in Chattanooga, Tennessee. If everything goes according to plan, the new plant will crank out 150,000 vehicles a year starting in 2012.  End of article. 

It's certainly a point of pride for Checkered Flag to be able to offer more and more vehicles made by American hands and we couldn't be more pleased to see the VW Tiguan coming to Tennessee.  This means not only added jobs for American families, but also lower prices for Checkered Flag VW customers.  Everybody wins! 

For more information on the Volkswagen Tiguan call (757)490-1111.