Checkered Flag Porsche fans-have I got the ride for you!  Check out the newest Porsche to heat the pavement, the 2012 Porsche Cayman S Black Edition.
 
Article source: [Autoblog.com]

Porsche has just unveiled the newest addition to its stable: the 2012 Porsche Cayman S Black Edition. Along with that sinister paint scheme, the vehicle packs an extra 10 horsepower over the standard Cayman S and rolls on unique 19-inch Boxster Spyder wheels. That bumps the final pony figure up to 330 hp, which helps the vehicle scoot to 60 miles per hour in a scan 4.6 seconds.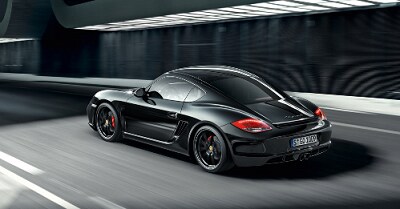 Outside, all of the vehicle's chrome accents have been painted black for the ultimate stealth look, and that theme carries on indoors. Black is the only available interior color, though brushed stainless steel and aluminum accents are littered throughout the cabin for a little flair. Even the gauges have been doused dark, and a Sport Design steering wheel is part of the package, too.

The Porsche Cayman S Black Edition toes the same line as the Boxster S and 911 Black Editions by offering the Porsche Convenience package as standard equipment. The 500 buyers lucky enough to sink their teeth into this model will be treated to adaptive bi-xenon headlights and rain-sensing wipers, among other kit, and navigation is standard, as well.  End of article.

We expect this model will be available starting somewhere around $70,000 for Checkered Flag Porsche customers.  If you are interested in reserving the 2012 Porsche Cayman S Black Edition, contact your premier Virginia Beach Porsche dealer, Checkered Flag Porsche, at (757)490-1111.