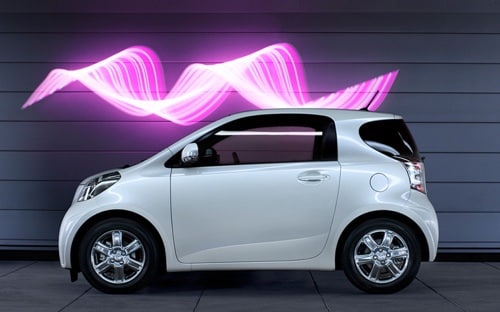 It's a bird!  It's a plane!  No, it's the world's smallest four-seater, the brand new Scion iQ!  Checkered Flag Scion, your Virginia Scion dealer, is gearing up for the debut of this little nugget of fun early next year.  Don't believe you can fit four in there?  Just take a look at this video. 
If you have trouble viewing the video, follow this link:
Scion iQ
(you may need to scroll down to article).
The
2011 Scion iQ
, will be headed to the leading
Scion dealership in Virginia Beach
, Checkered Flag Scion in a few months from now. To bring it in line with the other offerings from Toyota's "youth-oriented" Scion brand, the iQ will get a bit more flash and flare than the Toyota version which debuted at the New York Auto Show earlier this year, with sharper, beefier front and rear fascias and more-muscular fenders.
The iQ obviously is tiny, but it also comes with an extensive list of standard safety equipment including: an airbag behind the rear seat, stability and traction control, ABS with panic-brake assist, and 9 other airbags as standard ( two front, two side-impact, two side-curtain, two front-seat knee airbags, a seat-cushion airbag for the driver, and the rear bag).
Power for the
Virginia Scion
market iQ will come from a 1.3-liter four-cylinder. Connected to the 1.3-liter will be a standard CVT (Constant Velocity Transmission), whose almost imperceptible shifting is certain to please discerning Virginia Beach Scion shoppers. Scion expects the iQ to return a combined-fuel-economy figure in the high 30s
.
VA Scion consumers will enjoy plentiful  space in the front of the iQ, thanks to numerous space-saving engineering solutions. The 2011 Scion  iQ has a traditional front-engine, front-drive layout. Cleverly, the iQ packages the differential in front of the engine, the starter motor is incorporated into the flywheel, and the steering rack is mounted up high. Even the air conditioner sits up in the center of the dashboard, allowing the firewall to be set further forward.
As the Scion division is primarily targeted towards young Virginia Beach drivers, the standard sound system will have six speakers, as well as USB and auxiliary inputs, steering-wheel-mounted controls, and multiple available head units.
The Scion iQ goes on sale at the #1 Virginia Beach
VA Scion dealer, Checkered Flag
Scion in early 2011. Prices have yet to be announced, but Virginia Scion consumers can expect  that the iQ will be available at our Virginia Beach Scion dealership for a budget-friendly $15,000.
For more information on leasing or purchasing the 2011 iQ from the premier Scion dealer in Virginia, contact Checkered Flag Scion at (757) 481-8230.