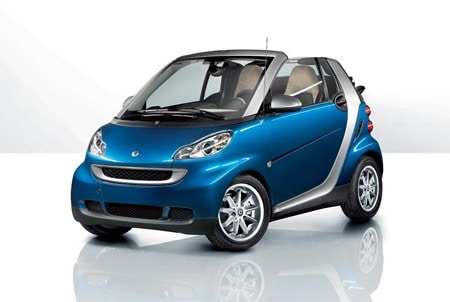 Did anybody else just see that
smart
!?!  If you were watching the Emmys on Sunday you may not have noticed the hottie leading off the show.  No, I'm not talking about Jimmy Fallon.  I'm talking about the
smart
fortwo he drove up in!!  Well we here at
Checkered Flag
sure didn't miss it. 
Check out the video below of Jimmy's intro to the show.  After arriving in his
smart fortwo
, Jimmy meets up with a handful of the Glee kids then picks up a slew of other primetime stars including Tina Fey, Kate Gosselin in her Dancing with the Stars gear, Jon Hamm from Mad Men, and my personal favorite, Joel McHale from the Soup and Community.  The crew makes it to the stage where they perform an unforgettable rendition of Bruce Springsteen's "Born to Run."  Even if you don't care for the Emmys, or know who any of these people are, you can still appreciate the fantastic showmanship. 
If you have difficulty viewing the video on this page, simply follow this link and scroll down to this article: 
Checkered Flag smart Emmy with Jimmy Fallon
.
Seriously cool, huh?  And to think it all started with the smart!  If you are unfamiliar with
smart cars
and would like more information, just contact us here at (757)490-1111 or come visit us here at
Checkered Flag smart
, your ONLY
Virginia Beach or Hampton Roads smart dealer
and test one out for yourself. 
Smart fortwos
are available in any color you could imagine, and with a starting price under $14,000, they fit anyone's budget.  We have plenty of smarts in stock, so stop by for yours today!   
Smart Va Beach
is located on Va Beach Blvd one door down from
Checkered Flag MINI
and BMW.