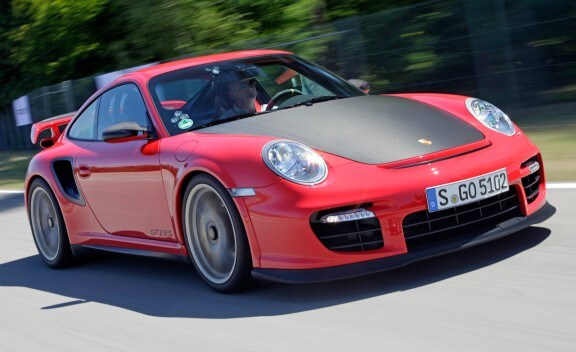 Want a car that can outrun the Corvette ZR1, the Ferrari 458, Dodge Viper ACR, and still get you to and from work everyday, legally, that is?  Then check out
Porsche
's most powerful street car ever, the 911 GT2 RS. 
For the bargain price of only $250,000, you too can be zooming around the streets of Hampton Roads in a vehicle that is so awesome it needs clearance from NASA before it takes off.  The 911 GT2 RS sports "620 horsepower and 516 pound-feet of torque without increasing the 3.6-liter displacement-that's 90 horses more than the GT2, 120 over and above the current Turbo, 205 more than the 996 Turbo ('01-'05), and a pretty phenomenal 172 horses per liter," states Car and Driver.  All of this and it weighs in at a tiny 3,050 lbs. 
Drooling yet?  Well, want to see the
911 GT2 RS
in action?  Well, just check out this brilliant video.  If you are unable to view the video on this page, click on the following link and scroll down to the article. 
Porsche 911 GT2 RS Video
.  
So, you're putting that on your wish list for Santa right now, aren't you?  Well, if you are seriously feeling the need for speed, we can help you out.  Right now,
Checkered Flag Porsche
, your
VA Beach Porsche dealer
, has in stock and available, the
Porsche 911 GT3 RS
.  At a fraction of the cost of the GT2 RS, this should be a little closer to within reach for many of our
Checkered Flag
Porsche customers, but still has the just-jumped-off-the-racetrack vibe. 
If you are interested in more information regarding any Checkered Flag Porsche vehicles, or would like to set up a test drive for the
911 GT3 RS
, just click on the following link for the contact form
Checkered Flag Porsche Inquiry
or call (757)490-1111.
Source: [
Car and Driver
]