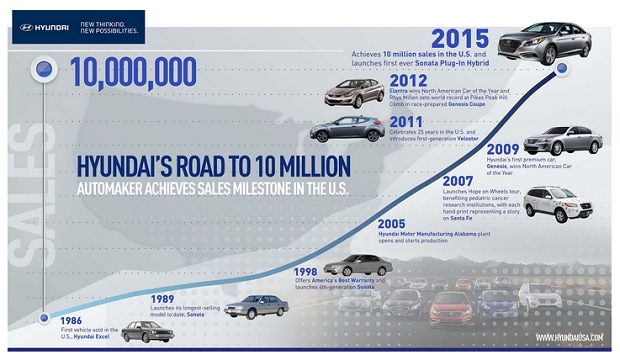 Your Virginia Beach Hyundai source, Checkered Flag Hyundai, is proud to be part of the US Hyundai tradition.  They are also very excited to be able to celebrate the sales milestone with Hyundai, 10 Million cars sold in the US.

Hyundai hits milestone with 10 million cars sold in US
Chris Bruce

Hyundai entered the US market in 1986, and initial success with the Excel was followed by a difficult period of quality woes. The company refused to bow out of the country, and began a turnaround. Now after nearly 30 years, the automaker is a highly respected player in the market and is celebrating the milestone of selling its 10 millionth vehicle in the US.

Amazingly, just five models make up nearly 85 percent of Hyundai's lifetime US sales, and unsurprisingly the Scoupe isn't one of them. The brand's bestselling model in that time is the Sonata with nearly 2.5 million examples on the road and 24.98 percent of the company's total volume. At 24.85 percent of deliveries, the Elantra barely squeezes into second place, and the Santa Fe is a somewhat distant third with about 1.25 million deliveries. Rounding out the top five are the Excel – Hyundai's first US model – at 11.47 percent and the Accent at 11.03 percent.

Since opening in 2005, Hyundai Motor Manufacturing Alabama has been responsible for a healthy portion of those 10 million total sales by assembling 2.66 million vehicles, including the Sonata and Elantra. "About 56 percent of the cars Hyundai sells in the United States are made here," company President and CEO Dave Zuchowski said in the milestone's announcement.

Take a look at where Hyundai is today and at some of its vintage models in the gallery above. With volume up consecutively for the last seven years, it probably won't take another three decades for the automaker to celebrate the 20 million mark.

Source: [Autoblog]

For more information regarding Checkered Flag Hyundai and their amazing selection of new and pre-owned Hyundai vehicles, call them today at (757) 687-3447.