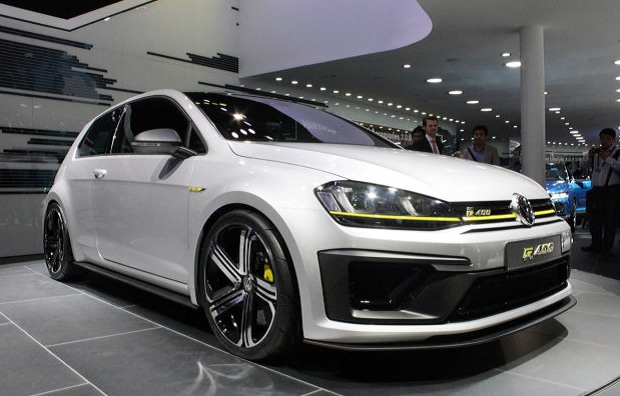 Lots of great new Concept vehicles and updates always surface at a Motor Show.  The 2014 Beijing Motor Show is providing some really exciting news for VW fans.  With so much buzz going on about the Golf R 400 Concept, there is much excitement in the VW circles. 

VW may actually build gonzo Golf R 400
By Chris Bruce

The Golf R 400 Concept with 395 horsepower and 332 pound-feet of torque might be one of the coolest concepts at the 2014 Beijing Motor Show. The absolutely scorching hatch can hit 62 miles per hour in 3.9 seconds and a top speed of 174 miles per hour. All of that power comes out the EA888 2.0-liter turbocharged four-cylinder that is nearly ubiquitous in VW Group's cars with all-wheel drive. The even better news about the R 400 is that it might actually see production.

According to Car and Driver, Volkswagen head of research and development Heinz-Jakob Neusser confirms that there will be a production version. However, there is no word whether the model is coming to North America. Neusser also claims that the engine in the R 400 is only mildly revised over the Golf R to take the extra boost. There is also the possibility the powerful four-cylinder could make it into other VW Group models.

It's great to hear that the Golf R 400 is more than just a styling exercise. It does a fantastic job at looking understated yet powerful, with the big wheels and bumper but few other body modifications. Now, let's hope VW deems North America worthy of its halo hot hatch.

Source: [autoblog]

If this is spot on, then Virginia Beach's VW dealer, Checkered Flag VW, is going to be an even hotter location.

For the most up to date model information stay logged in to Checkeredflag.com.  Call (757) 687-3447 today to schedule your visit and see all that Checkered Flag VW has to offer in savings, service and selection.