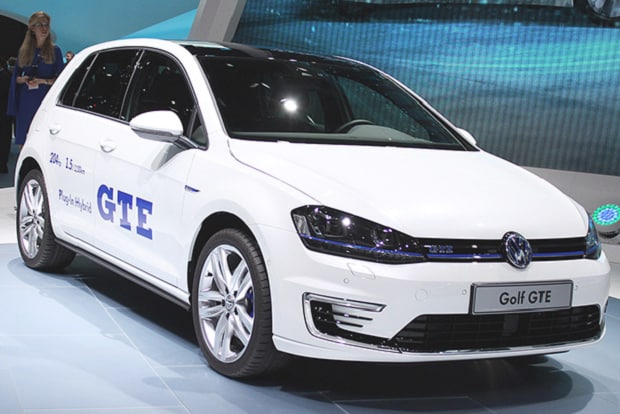 The GTI has been hugely popular at Checkered Flag VW for years, but the world has not experienced enough - so come on ya'll - now it is coming from the pros.  Those people that make it their living to talk about cars night and day are now saying that everyone needs to own a VW Golf/GTI. 

Volkswagen Golf GTE is mean, green eco machine
By Steven J. Ewing

I have this theory that keeps coming up when recommending new cars to people: "Just buy a GTI." Seriously. It's a perfect little hot hatch, with a comfortable, well-appointed interior, and the sort of dynamics that make it a nice everyday driver while still offering gobs of fun when the roads get interesting. It's basically the perfect car to me.

But with this new crop of electrified vehicles, my theory hasn't stood – until now. Presented here at the Geneva Motor Show, Volkswagen is introducing the Golf GTE, a plug-in hybrid version of my perennial favorite hot hatch. It couples a 1.4-liter turbocharged inline four-cylinder engine (on its own good for 148 horsepower) with an electric motor that offers an additional 101 hp of thrust. And when moving in tandem, the system's peak output is rated at 201 hp and 258 pound-feet of torque. VW says the Golf GTE can hit speeds of up to 81 miles per hour on electric power alone, and with the gas engine giving some assist, will sprint to 62 mph in a respectable 7.6 seconds, with a top speed of 135 mph.

Visually, the GTE looks the part of a GTI, though the hotter car's red accents have been replaced with eco-ish blue ones. Standard rollers measure 16 inches, but Volkswagen will offer 17- and 18-inch wheels.

It all sounds pretty great, but sadly, Volkswagen currently has no plans to offer the Golf GTE in the US market. That's a shame. Guess you'll just have to buy a regular GTI in the meantime. No, really – do it.

Source: [autoblog]

Okay, so the article was a mixed bag of emotions.  On one side, I really want to get into the green scene and get the electric car, but, with US regulations that will not be possible.  I think that everyone should just do as the very smart writer suggests, and go out and buy a new VW GTI at Virginia Beach's VW Dealer, Checkered Flag VW.

For more information on the GTI and VW Golf, call (757) 687-3447 today.  Come in and test drive this little beast for yourself.  See what all the talk is about.