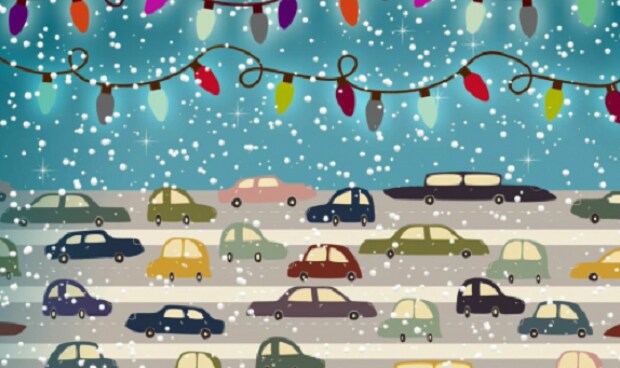 Hampton Roads' Checkered Flag fans are awfully happy to see all the lowered gas prices at the pump.  This, marked with an extra long holiday break is making for more traffic on the roads.  From the estimates that I have seen around 91% of Virginians are travelling at least 50 miles during this winter break.  That is a lot of traffic and volume on the roads and in the skies.

AAA News Release: 12/18/2014

MORE THAN ONE THIRD OF VIRGINIANS TO TRAVEL THIS HOLIDAY SEASON, HIGHEST INCREASE IN TRAVELERS SINCE 2009: GAS PRICES DROP TO FIVE YEAR LOW: A HOLIDAY GIFT FOR MOTORISTS

RICHMOND, VA (Thursday, December 18, 2014) - AAA Mid-Atlantic projects more than one-third of Virginians, 2.8 million, (2,823,794), will journey 50 miles or more from home during the year-end holiday season, an increase of 3.5% from last year. This upward trend marks the highest forecast growth rate for the year-end holiday season since 2009 and the highest travel volume for the holiday period on record. (AAA data dates back to 2001.) The year-end holiday period is defined as Tuesday, December 23 to Sunday, January 4.

Highlights from 2014/2015 Year-End Holiday Travel Forecast:

Holiday travel is expected to total 2.8 million in Virginia, an increase of 3.5% from the 2.7 million who traveled last year.

Travel volume for the year-end holidays in the Commonwealth of Virginia will reach the highest peak recorded by AAA (since 2001).

Nearly 91 percent of Virginia travelers (2.5 million) will celebrate the holidays with a road trip, an increase of 4.2 percent from 2013.

Air travel is forecast to fall by 0.6 percent from 2013, with 151,804 travelers taking to the skies.

Low gas prices continue to help boost disposable income this holiday season, with today's Virginia average price of gas at $2.36 per gallon, 79 cents less than a year ago.

Year-end holiday travel period is defined as the 13-day period from Tuesday, December 23 to Sunday, January 4.

"Rising disposable income, an extended holiday period, and lower gas prices are boosting this year's year-end holiday travel," said Martha Mitchell Meade, Manager of Public and Government Affairs for AAA Mid-Atlantic.  "Gas prices are at the lowest level seen in more than five years, filling motorists' stockings with extra holiday cash."

Moreover, the calendar is having a positive effect on the number of travelers expected this year. This year the holidays land on a Thursday, creating a holiday travel season that is one day longer than last year's and the longest since 2008, offering travelers more options for departures and return trips. This flexibility makes it possible for more people to fit holiday travel into their schedules

Impact of gasoline prices on travel plans
Today's national average price of gasoline is at the lowest level in five years and 74 cents lower than last year, a welcome gift for holiday travelers.  Likewise, in Virginia motorists are paying $2.36 per gallon on average, the lowest level seen since September, 2009.  Falling gas prices have helped boost disposable income by3.5 percent from year-ago levels, which has had a positive effect on travel.

Hotel, car rental rates rise modestly
According to AAA's Leisure Travel Index, hotel rates for AAA Three Diamond lodgings are expected to increase four percent from one year ago with travelers spending an average of $143 per night compared to $138 last year. The average hotel rate for AAA Two Diamond hotels has risen five percent with an average cost of $108 per night. Daily car rental rates will average $66, four percent higher than last year.

Airfares fall seven percent this year, driven by low-cost carriers
Average discounted round-trip airfares across 40 top domestic routes are expected to fall seven percent this year, to $186. This is influenced by the availability of discounted rates from low-cost carriers in several top markets. AAA encourages travelers to consider the full cost of a ticket when purchasing air travel, as many airlines charge ancillary fees for checked bags, meals, priority boarding and seat assignments.

Source: [AAA]

These numbers are scary.  I am staying put this holiday season.  If you are looking for someplace local that has great coffee, drive into your local Checkered Flag dealership.  Their knowledgeable sales agents will help you drive away in a new or pre-owned vehicle that will help you take advantage of the low gas prices, and get you around the traffic in comfort and style.

For more information about inventory at the Checkered Flag new and used car dealerships, contact them today at (757) 687-3447.